Help the world see & Blink Around the World!
TFOS launches new Blink campaign
Dry Eye Awareness gets a much needed boost with the launch of a year-long social global campaign dubbed Blink Around the World. Eye health professionals around the world are joining the Tear Film & Ocular Surface Society (TFOS), to generate dry eye awareness with a new song and corresponding online campaign.
According to TFOS Member and advisor Dr. Debra A. Schaumberg, Associate Director for Clinical & Epidemiologic Research at the University of Utah: "Dry eye disease is a global problem and treatment is an unmet need. Dry eye causes both discomfort and vision problems, particularly with contact lens wearers, computer users and people as they age. Women are the largest demographic of dry eye sufferers." Approximately twenty to forty million people live with dry eye in the United States with Europe close behind and Asia nearly double in prevalence.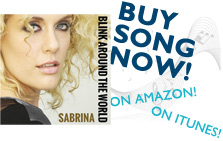 To help reinforce the message, TFOS has also launched a new song to promote global eye-health. "Blink Around the World is a fun and catchy way to remind people to blink their eyes, which both exercises and protects this preciously vital organ," says Amy Gallant Sullivan, Executive Director of TFOS. "The simple act of blinking reduces dry eye symptoms by flushing fresh tears over the eye, re-moisturizing and keeping foreign matter and irritants out." Unfortunately, dry eye causes us to blink less and blinking is a self-help treatment, so we all need to blink more.
Sullivan is amassing a coalition of partners including scientists, clinicians, pharma and patients to help spread the importance of blinking and eye health. TFOS collaborated with Italian pop singer Sabrina to create the new music single. "Blink Around the World," the song, can be purchased on Amazon.com or via iTunes. Proceeds from the sale of Blink Around the World will benefit the TFOS educational mission.
CONTACT LENS DISCOMFORT: WHAT IS IT, WHY DOES IT OCCUR AND HOW CAN IT BE TREATED?
Workshop report offers framework for getting answers
BOSTON, MA, October 18, 2013 - Contact lens discomfort (CLD) may be the leading cause of patient dissatisfaction with, and discontinuation of, contact lens wear throughout the world - but there is little agreement among vision researchers and eye care professionals about how to define and manage its causes.
" Up to half of all contact lens wearers experience CLD," explained Jason J. Nichols, OD, MPH, PhD, Professor at the University of Houston College of Optometry . "However, there is no global consensus concerning the definition, classification, epidemiology, pathophysiology, diagnosis, management and the proper design of clinical studies for CLD ."
To lay the groundwork for defining and treating this widespread issue, the Tear Film & Ocular Surface Society organized the TFOS International Workshop on Contact Lens Discomfort (CLD), which was chaired by Nichols. The findings were reported today in the journal Investigative Ophthalmology & Visual Science (www.iovs.org).

read on

click here to read the the TFOS International Workshop on Contact Lens Discomfort Report

click here to access the TFOS CLD Workshop website
TFOS important info & facts:
The TFOS App and the MGD Report are now available for free on the Appstore and for Android devices:






TFOS Share options: